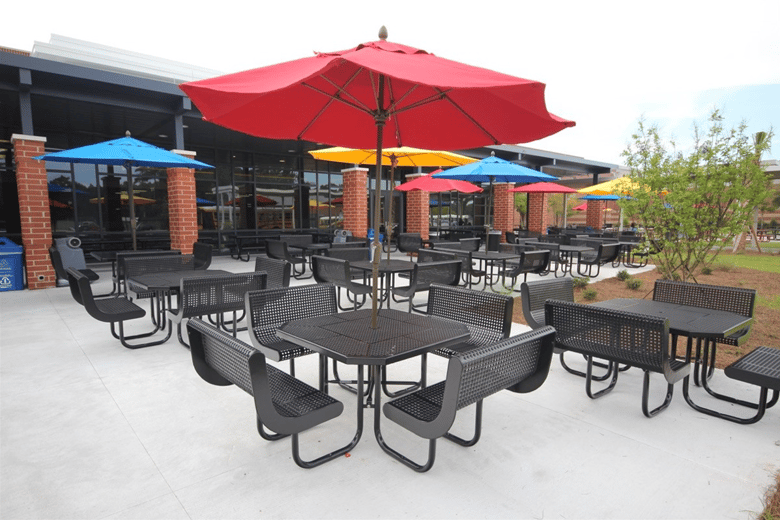 Providing outdoor seating options and the ability to dine al fresco can be a great financial benefit to a foodservice operation. Even in New York, New Jersey, and Connecticut when the outdoor dining seasons are shortened, restaurants can still experience increased profits when providing al fresco dining.
Outdoor seating has a few important impacts. First of all, it increases the number of tables and potential guests a facility can host at a single time. Second, it's often a trendy and energizing way to dine. And finally, it allows restaurants and foodservice operations to take full advantage of the surrounding scenery. If your restaurant has a view of the Statue of Liberty, why not provide an outdoor view of it for diners?
Aside from attracting guests with a nice view, though, what are some ways to increase the impact of your outdoor dining facilities? Here are some general concepts from the National Restaurant Association:
Make guests comfortable. During the hot summer months, it's important to provide a refuge from the sun and heat. Consider umbrellas and misters as a way to offer relief. During shoulder seasons that experience cooler temperatures, and especially during the winter, add heat lamps to entice guests.
Create a beer garden or a festive area where guests can take refuge. Lighting can really add to the ambiance, and these spaces are especially important for taking advantage of scenic locations. Rooftops in New York City will never go out of fashion, and the views can be a bigger draw than even the food and beverages you serve.
Consider specials. In hot or cold conditions, or during off peak hours when you might not expect diners but want them, outdoor seating might be under utilized. Specials or happy hours can be a great way to pull people to these areas of your restaurant.
Commit to outdoor dining. If you're going to provide al fresco spaces, make sure they fully accommodate your guests' needs. Make sure the extra seating can be met with both service and kitchen capacity. And certainly make sure your outdoor space and all patio furniture is up-to-date, modern, and safe. Things to consider are tables, benches, chairs, lighting, umbrellas, and trash cans.
See a full range of outdoor dining solutions in the latest catalog and outdoor dining guide from Wabash Valley.