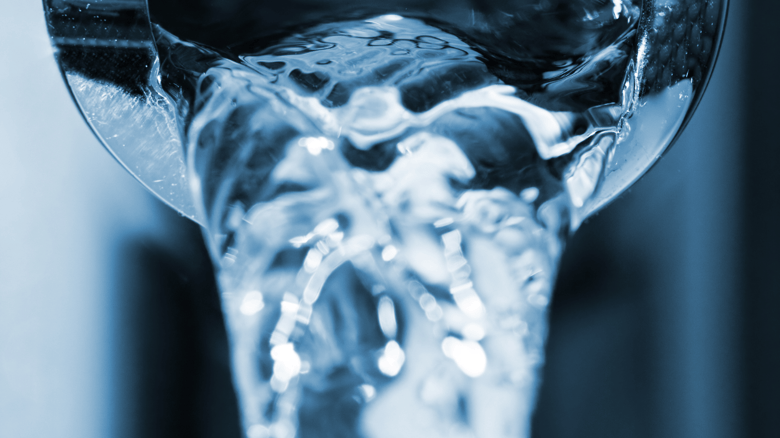 The recent COVID pandemic has made everyone more aware of how many surfaces they're touching a day. As a result, offering more touch-free options to help stop cross-contamination is something foodservice operations are doing to help customers and employees feel safer. Here are some touch-free equipment options and how they can be incorporated into your foodservice business.
Beverage
Dispensing beverages requires multiple touchpoints. Having hands free options helps make your beverage station safe for your staff and are also perfect for customer facing self-service stations.
Vero Water has introduced the VERO+4 with Touchless Technology. Able to dispense still or sparkling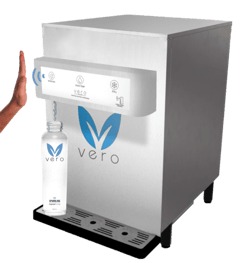 water with the wave of a hand, the unit eliminates the need for wait staff to touch any buttons. Customers just place a bottle under the dispenser, wave their hand in front of the sensor and their choice of water is dispensed. Providing hydration with minimal touch points.
Both TableCraft and Rosseto offer a hands-free faucet handle that provides hygienic, no-touch beverage dispensing. With their push designs they are simple to use and ideal for drink dispensers located in high traffic areas.
Cooler and Beverage Doors
Having to pull open walk-in cooler doors while your hands are full is no fun. It's also another touchpoint that employees shouldn't have to deal with. Kolpak Enhanced Sanitation Solution Foot Treadle offers an add on to open high traffic cooler doors. Just put your foot under the treadle and easily pull the cooler door open. Another hands-free option for coolers is the Delfield foot-operated openers. Simply step on the pedal to open the door and allow staff to access products safely and without cross-contamination on the door handles.
Dinnerware
Serving meals to groups of people is safer with Bauscher's line of low touch dinnerware. Made of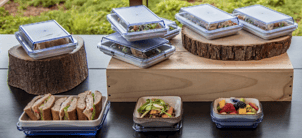 porcelain, the dishes allow for meals to be prepared in advance, pre-platted and rethermalized when ready to be served. Each dish comes with its own sturdy plastic lid for a hygienic, attractive presentation. Perfect for conferences, weddings or any other occasion where multiple meals need to be served.
Hand Sinks
Washing your hands often in a kitchen environment is imperative for health conditions. The CDC says that to help prevent illness, hands need to be washed anytime gloves are changed, food is touched, and in many other instances. All of this hand washing also means touching faucets to turn the water on and off. This touchpoint is easily eliminated with the John Boos hands-free sinks and faucets. Available in knee and foot valve options, the hands-free sinks are available in three models to fit any kitchen configuration while the hands-free faucet has an electric sensor and goose-neck spout.
Are you wanting to see what's new for 2021? We'd love to keep you in the loop. Click the photo below to see the latest information from foodservice industry leading manufacturers.