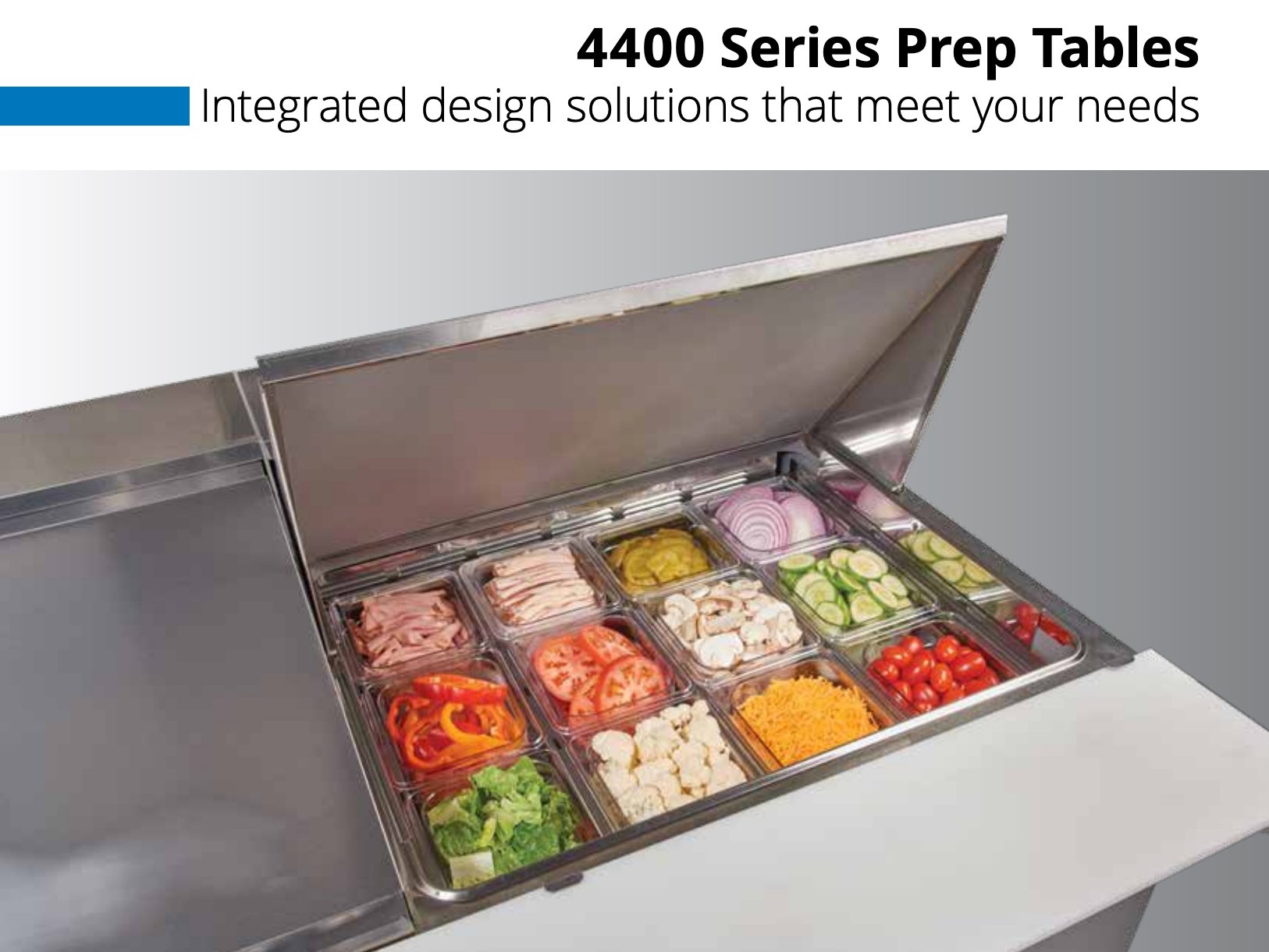 Modern restaurant kitchens are like assembly lines in a factory. All the components have to be readily available at the right time for chefs to assemble high quality, wholesome dishes with speed and consistency.
This means the "assembly stations" of the commercial kitchen need to be compact and efficient, as every foot of space is valuable. Prep tables need to be designed for throughput, safety, and ergonomics so staff members can make the most out of their equipment, can minimize fatigue, and prevent accidents.
Delfield's 4400 series prep tables address these complex challenges very well.
Delfield's 4400 Series Prep Tables
Delfield presents the 4400 series prep table as "an integrated solution that meets your meal preparation needs". What are the key features of this product that make it an integrated solution?
Front breathing design:

This feature makes the prep table compact by eliminating grills on the sides and bumpers at the back. So there need not be any gaps between the back of the table and the wall or the sides of the table and adjacent appliances.
Self-closing doors:

The doors open wide to a 120° angle for easy access and close by themselves past 90°. The door hinges are concealed to avoid damage to them and to prevent worker's sleeves snagging on them.
Full length handles:

Not only doors but all lids and drawers have full length, integrated handles that minimize hand movements.
Long-life door gaskets:

These are made of a long-lasting vinyl material that provides a perfect door seal. The gaskets are snap mounted with magnets to make them easy to remove for cleaning. They are protected by an ABS guard that prevents utensils from crashing into the gaskets.
Easily maintained ABS interiors:

ABS is used for the interiors also. It is a hardy polymer that lasts long in the tough environments of the kitchen and is easy to clean.
Environmentally friendly design:

The 2" thick polyurethane foam used for insulating the prep tables is an environmentally friendly, Kyoto Protocol compliant material. It is also a non-ODP (Ozone Depletion Potential), non-GWP (Global Warming Potential) material.
Work-friendly design:

The prep table is designed to lighten the chef's workload with large volume pans, large capacity interiors, a double-sided cutting board, and casters that make units easy to move.
GreenGenius™ R290 refrigeration:

Last but not least, the R290 refrigerant-based system makes the 4400 series prep tables 39-55% more energy efficient than its predecessors. The natural hydrocarbon used for refrigeration enables the GreenGenius to exceed the DOE (Dept. of Energy) and ENERGY STAR® 3.0 standards. The GreenGenius system comes with an adaptive defrost that requires no manual intervention to make the evaporator ice-free.
[ADDITIONAL READING: Download the 4400 series brochure]
The Delfield 4400 series prep tables are a great asset for any modern kitchen that wants to prepare high-quality meals while improving worker efficiency and lowering operational costs. To learn more about them or to see one in person, schedule some time to visit with P3 Reps today.