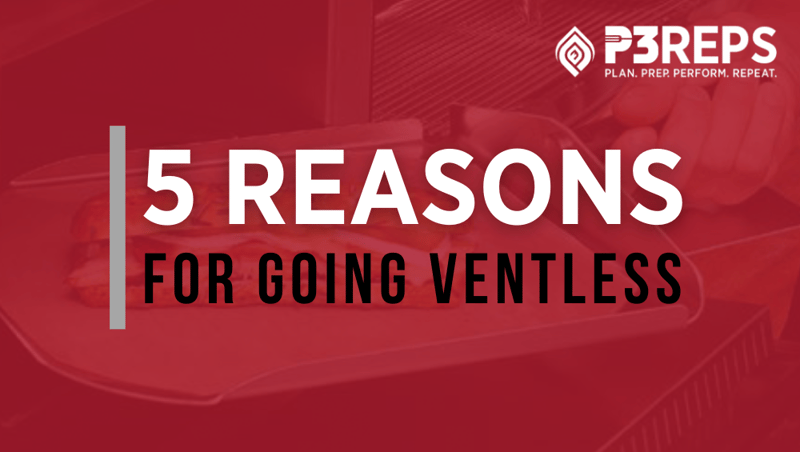 As a foodservice operator, you'll face unique challenges such as the ever-present need to reduce utility costs, improve operational efficiency, and tackle labor issues, which are now more prevalent than ever. If these five objectives can be achieved, the odds are greater for a successful and profitable foodservice business.
One of the ways to help reach these goals is to consider ventless foodservice equipment. With innovative technology and filter types, ventless cooking can go a long way to reducing spend and keeping kitchen conditions ideal for performance.
Here are five ways ventless foodservice equipment can help an operation become more profitable.
1. Ventless equipment can reduce costs.
Ventless equipment can have massive cost savings for your restaurant. When you choose ventless kitchen equipment, you'll save money in different areas such as:
Installation Costs
Installation costs are far lower than you would incur for hood installation. The installation of vent hoods is complex and will cost you more- from the actual vent cost to ductwork. Most hood installations average $964-$1174 per linear foot. Ventilation hoods also have operating and maintenance costs. Ventless cooking, on the other hand, eliminates those initial installation costs.
Maintenance Costs
You'll also save money on maintenance costs. Using a hood system, you'll spend an average of $103 per hour on maintenance every three months. Paying someone to clean out the vents is a thing of the past.
Energy Costs
It comes as no surprise that commercial kitchens use a ton of energy. Ventilation hood systems consume a lot of energy, increasing your utility bills. One way you can reduce your utility bills is to use ventless cooking equipment that is in line with carbon neutrality.
2. Reduce space limitations.
Gone are the days of selecting new equipment based on the limited footprint you have to work with. Ventless equipment provides operators with the flexibility to relocate equipment to accommodate new solutions within your space constraints. Not everything needs to go under a hood.
3. Ventless can be portable.
Ventless equipment offers the unique opportunity to relocate your foodservice equipment anywhere your space will allow. Without the need for traditional ductwork that is built-in and part of the building, you can take your ventless cooking directly in front of your customers.
4. Ventless works with endless applications.
No matter the type of foodservice business you have, ventless cooking is ideal for it. You can use ventless technology for schools, fast food restaurants, retail operations, and cafeterias. Even foodservice operators in correctional facilities and stadiums can use ventless equipment. Just imagine all the menu possibilities inside of a large-scale college or university when you don't have the footprint or ductwork limitations of cooking surfaces. You could turn it into a multi-ethnic hub for the taste buds!
5. Ventless is safer.
Most commercial cooking equipment releases heat, smoke, and odor. Kitchen hoods hang over grills, ovens, and fryers to remove the grimy byproducts from the air. The mechanical fan used in the hoods creates a buildup in your kitchen. Therefore, you'll have to clean your kitchen hood to avoid a potential fire hazard.
Ventless equipment has built-in technology that only releases clean air. Ventless solutions use recirculation and catalyst technology. The catalyst separates the molecules that go into it and puts the atoms together to form new molecules.
Now that you know the benefits of using ventless cooking equipment, the next step is finding the perfect ventless solution for your foodservice operation.
Are you ready to discuss why ventless may be the solution you're looking for? Connect with one of our helpful reps today.