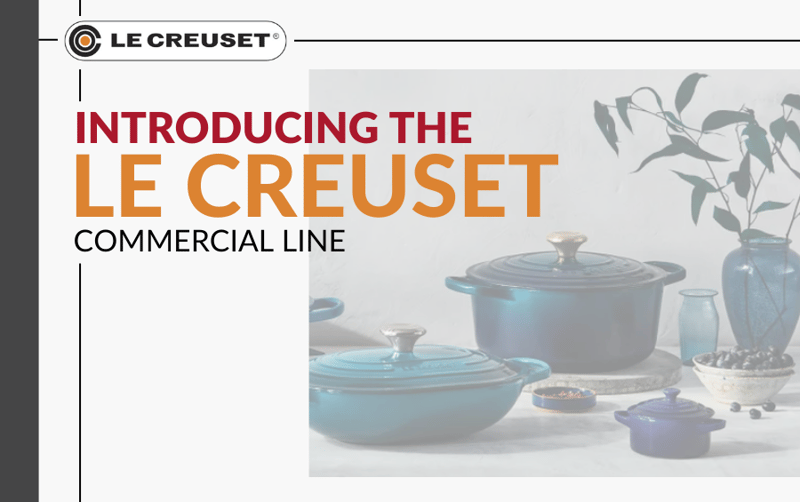 Since its founding in 1925, Le Creuset has dominated the residential cooking market. This popular French brand has been the first choice of home cooks who want to prepare meals with the best possible cookware and bakeware available.
The brand started with porcelain enameled cast iron pots and expanded from there. Each piece of Le Creuset cookware is made individually inside a sand mold at the factory in France. Today, Le Creuset is known for its wide range of bright colors to match every kitchen. The brand continues to expand as it releases its brand new line of commercial products. These new products were designed with a commercial or industrial kitchen in mind.
If you own or manage a restaurant, foodservice operation, or industrial kitchen, you know you need the right tools and cookware to make outstanding dishes. The new commercial Le Creuset line can help you achieve your dreams by providing the highest-quality equipment.
Color Selection
Le Creuset is known for its bright and bold color selection. With the new commercial line, you have your choice of colors, so you can choose the one that best represents the spirit of your kitchen. These colors include:
Cerise
Marseille
Oyster
Flame
Indigo
Caribbean
Meringue
White
Stainless
Licorice
Deep teal
Artichaut
There is a color that's sure to appeal to you.
Individual Service
Sometimes, you need to make smaller, individual portions as part of your commercial operation. There are also times when you serve the dish in the cookware it was made in. Le Creuset has the individual service cast iron cookware that you need and won't be ashamed to send out to a table. The most popular pieces include:
1.5-quart braiser
Mini cocotte with stainless steel handles
1-quart round Dutch oven
1-quart oval Dutch oven
6 1/3-inch skillet
5/8-quart oval bakery
These pieces can help your kitchen prepare decadent desserts and serve them in a mini cocotte available in a rainbow of colors- or use a Dutch oven to offer up a side dish tableside. These individual portions offer freshness and elegance.
The Le Creuset line for individual service allows you to offer smaller portions that are freshly prepared, so your guests know they're getting the best. It helps your guests feel like the serving was prepared just for them and not part of some assembly line.
Back of the House
You hired each and every one of your kitchen staff members for their ability to shine in the kitchen, and with the Le Creuset line, you give them the tools to do that. The new Le Creuset commercial line gives them the options they need with a variety of sizes and cookware. The new line includes:
Round Dutch ovens
Stockpots
Silicone tools
Toughened non-stick
Stainless steel
Oval Dutch Ovens
Each of these items comes in a variety of sizes to meet your needs and a plethora of colors to set the tone in your commercial kitchen. The toughened non-stick pans are great for searing meat and pan-frying pork chops. The selection of silicone tools offers quality and provides the gadgets you need to scrape pans and swipe melted butter onto freshly baked rolls.
When it comes to the back of the house, your team needs quality products to work their magic. The new Le Creuset line for commercial kitchens provides the tools they need to do that. You can choose a few pieces or the entire line.
Known for its quality, Le Creuset cookware can only enhance your ability to wow your customers. When you're ready to learn more, P3 Reps is ready to review the line with you and help you make your selections.
Click the image below to view the entire hospitality catalog:

Would you like to set up a time to see this line in-person? Connect with one of our helpful reps today.