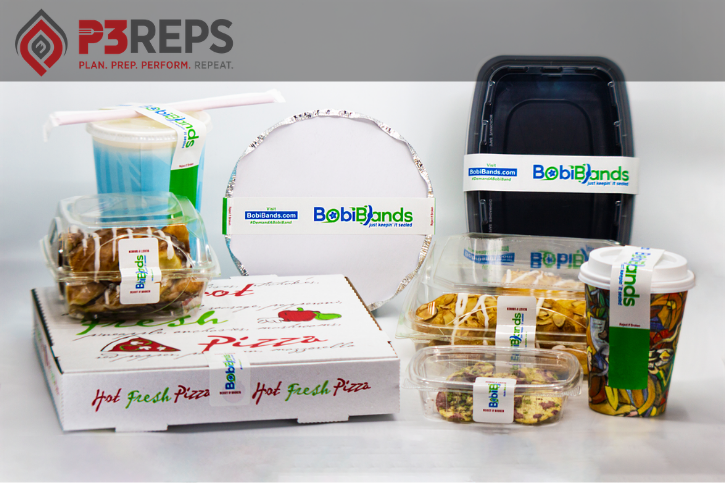 Learning to adjust to trends, new laws, new regulations, and anything out of the ordinary is essential to the success of any foodservice operation. While we don't face pandemics often, people are coming together to share ideas and create new ways for operations to continue serving. They've paved the way on how to get through a crisis like the current COVID-19 pandemic one step at a time. From adjusting services to only allow takeout orders, to working with brands like Uber and Grubhub to provide delivery options, finding new ways to continue operating while protecting food is essential in today's 'takeout era.' Thankfully, the expansion of new services and ideas are reaching out daily to help operations continue.
SAY HELLO TO BOBIBANDS
Created by delivery drivers, Bobiband is a tamper evident seal designed to protect food and beverage containers while eliminating the potential spread of contamination. The service is created to be eco-friendly, helping operations maintain a green persona through recyclable materials. While helping reduce waste, Bobibands uses non-toxic adhesives and complies with FDA and CONEG regulations. The structure behind the brand offers peace of mind while pursuing trust with consumers.
STRIVING FOR CLEANLINESS
Cleanliness is taking on an entirely new meaning with COVID-19 helping the drive to enforce it. The days of simple cleaning routines are behind us and now consumers want foodservice operations to adjust by providing more secure methods for ordered goods. They still want to put their money into the environment and spend it with local businesses, but they're asking operations to adjust hygienic and service options to protect them and their loved ones.
That means doing things like sanitizing more, wearing gloves to serve them and changing them often, and not touching their food after it's cooked. If you have to touch their food, PPE must be worn.
With Bobibands you're able to build contamination free trust and maintain it. The brand has designed the product to specifically show when somebody has attempted to break or remove the band, making it obvious to customers to check and see if their order's been tampered with. This system is great for helping you continue to operate while abiding by new regulations that may allow you to only provide takeout or delivery.
ADDITIONAL BENEFITS
Worried you'll have to adjust your menu during the pandemic? Think again! Bobibands are made to be flexible with temperature changes, allowing you to use them on food and drinks all the same. You can provide everything from a freshly cooked meal to an ice cold drink, or even ice cream itself. The band's durability isn't limited and will still work.
Each band is made to securely fit virtually any container, dry or damp, so you can implement the use of them on all of your products without worry. Say hello to continuing to provide great service to your hungry consumers and goodbye to a little bit of that stress caused by COVID-19.
GET YOUR BOBIBANDS TODAY
At P3 Reps we proudly service the metro NYC, western Connecticut, southern New York, and northern New Jersey area. If you have any questions about Bobibands and how to order some for your foodservice operation, or questions on other sustainable ideas you can implement during the pandemic, reach out to us today.
Our team is prepared to help you get through and over every obstacle COVID-19 brings. Call us at (201) 797-2266 or email us at info@p3reps.com for all of your Bobiband and appliance needs. We look forward to hearing from you and working with you through the changes in trends, regulations, and more.